by Melissa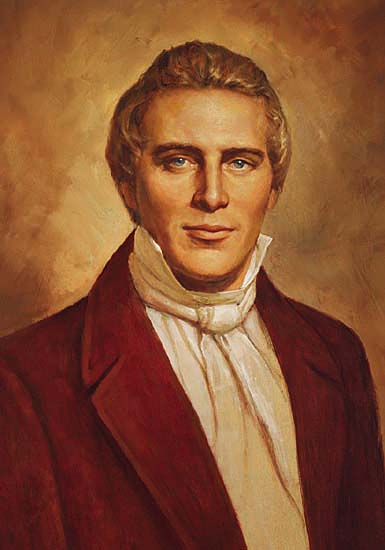 My witness of Joseph Smith is a foundational point in my testimony of the truthfulness of the gospel of Jesus Christ and in The Church of Jesus Christ of Latter-day Saints (sometimes called the "Mormon Church" by those of other faiths). Though I never met him or spent time with him personally, I have come to know him through studying the history of the church, much as I've come to know the Savior through studying the scriptures.
Joseph was a flawed man with a personality all his own. My reverence for him is very real and personal, because his actions have had a great influence on my life, the lives of many close to me, and of many others out there who have in some way been touched by his message. Elder John Taylor summed up the achievements and influence of this man, after witnessing his death, in words far better than I could ever provide in Doctrine and Covenants 135:3:
Joseph Smith, the Prophet and Seer of the Lord, has done more, save Jesus only, for the salvation of men in this world, than any other man that ever lived in it. In the short space of twenty years, he has brought forth the Book of Mormon, which he translated by the gift and power of God, and has been the means of publishing it on two continents; has sent the fulness of the everlasting gospel, which it contained, to the four quarters of the earth; has brought forth the revelations and commandments which compose this book of Doctrine and Covenants, and many other wise documents and instructions for the benefit of the children of men; gathered many thousands of the Latter-day Saints, founded a great city, and left a fame and name that cannot be slain. He lived great, and he died great in the eyes of God and his people; and like most of the Lord's anointed in ancient times, has sealed his mission and his works with his own blood; and so has his brother Hyrum. In life they were not divided, and in death they were not separated!
The influential journey of Joseph Smith began when he was just a boy. At fourteen, he was on a spiritual journey to find the truth, much like the spiritual journey we all undertake at some point in our lives. He lived in a time and place of spiritual revival—Palmyra, New York, in the early 1800s. There were many churches and denominations vying for the "final word," and young Joseph was confused by all the very different interpretations of simple scriptures, all the discord and contention among people with very different opinions. Who was right? How was he to know which denomination to join?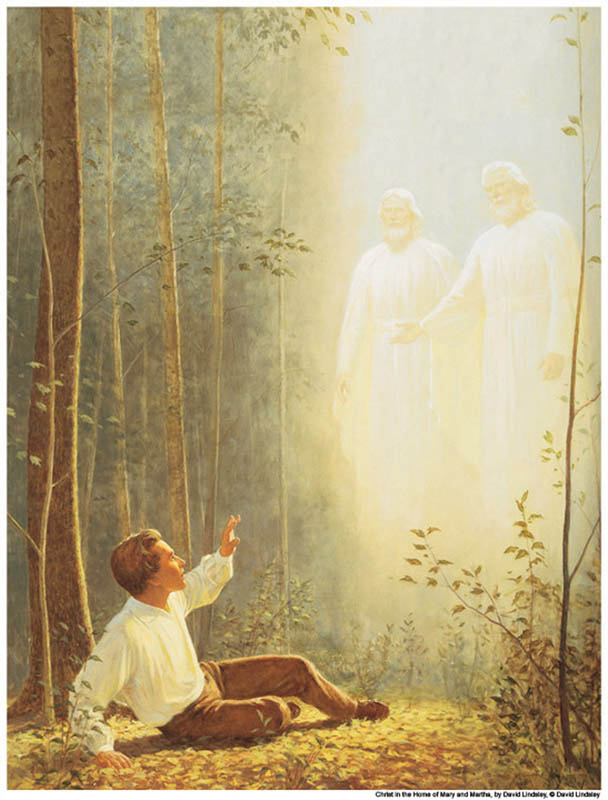 In his study of the Bible, he came across James 1:5–6: "If any of you lack wisdom, let him ask of God, that giveth to all men liberally, and upbraideth not; and it shall be given him. But let him ask in faith, nothing wavering. For he that wavereth is like a wave of the sea driven with the wind and tossed." Following the counsel of this verse, Joseph sought out the Lord in prayer, hoping to gain personal revelation and a better understanding as to where he could find the truth. He certainly did not expect to be privy to what followed. We can read in his own words the account of what Latter-day Saints have come to call "The First Vision" in the Pearl of Great Price, Joseph Smith—History 1:15–17:
After I had retired to the place where I had previously designed to go, having looked around me, and finding myself alone, I kneeled down and began to offer up the desires of my heart to God. I had scarcely done so, when immediately I was seized upon by some power which entirely overcame me, and had such an astonishing influence over me as to bind my tongue so that I could not speak. Thick darkness gathered around me, and it seemed to me for a time as if I were doomed to sudden destruction.

But, exerting all my powers to call upon God to deliver me out of the power of this enemy which had seized upon me, and at the very moment when I was ready to sink into despair and abandon myself to destruction—not to an imaginary ruin, but to the power of some actual being from the unseen world, who had such marvelous power as I had never before felt in any being—just at this moment of great alarm, I saw a pillar of light exactly over my head, above the brightness of the sun, which descended gradually until it fell upon me.

It no sooner appeared than I found myself delivered from the enemy which held me bound. When the light rested upon me I saw two Personages, whose brightness and glory defy all description, standing above me in the air. One of them spake unto me, calling me by name and said, pointing to the other—This is My Beloved Son. Hear Him!
In the conversation that followed, Joseph Smith was told to join none of the churches, for none of them were true. Each had portions of truthfulness and strived to draw nearer to God, but they all fell short of the fulness of the gospel of Jesus Christ. Joseph was left with this witness and was persecuted for sharing it. It wasn't until years later that further visitations from angels prepared him for a restoration of the truth he had sought as a boy. He was led to another book of scripture which written by the ancient people of the Americas as another testament of Jesus Christ, guided through the translation, and blessed with the restored power of God's Holy Priesthood in order to bring His Church back to the earth.
I have studied Joseph's story and the scripture he translated by the power of God—the Book of Mormon—and I have sought out my own personal revelation from my Father in Heaven as to whether or not this story is true. The Holy Spirit has testified to me in my heart, mind, and soul that it is true and that The Church of Jesus Christ of Latter-day Saints is His church. Everyone who investigates this church is encouraged to gain a similar witness, as it is one's personal testimony and conviction that truly determines his or her path and course through life. My witness of Joseph Smith is more than a witness of a flawed boy who was privy to angelic visitations and divine inspiration. It is a witness of God's love for us, that He will not leave us in darkness, that He will guide us and direct us so long as we seek Him out in faith. Joseph Smith was just a man, but he was a great man who led me to Christ, my Savior and Redeemer, and I am immensely grateful to him for that.