Chapter 32
Work of printing the Book of  Mormon continues. Hyrum Smith is led by the Spirit to go to the press on the Sabbath. He and Oliver Cowdery discover Abner Cole pilfering the Book of Mormon, publishing it in a series in his small newspaper. They ask him to cease and desist. Joseph is brought in from Pennsylvania, warns Cole he will use the law, and convinces Cole to stop his illegal activities. Citizens of Palmyra combine and agree to never purchase the "gold bible."  The Book of  Mormon  is published.
Fall 1829 to March 26, 1830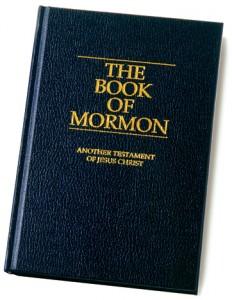 The work of printing still continued with little or no interruption. The bargain which they had made with E. B. Grandin entitled them to use the press every day except Sunday. Then one Sunday afternoon, Hyrum became very uneasy. He told Oliver that his peculiar feelings led him to believe that something was going wrong at the printing office. Oliver asked if he thought there would be any harm in going to the office because it was Sunday. They debated some time about this, until at last Hyrum said, "I shall not stop to consider the matter any longer, for I am going. You may suit yourself about the matter, but I will not suffer such uneasiness any longer without knowing the cause."
In a few minutes they were on their way to the printing establishment. When they arrived there, they found an individual by the name of Cole very busy at work printing a paper which seemed to be a weekly periodical. Hyrum said, "Why, Mr. Cole, you seem to be busy at work. How is it that you work on Sunday?"
Mr. Cole answered, "I cannot have the press during the week, and I am obliged to print nights and Sundays."
Hyrum took up one of the papers and discovered that the man was printing the Book of  Mormon  by piecemeal. In the prospectus, Mr. Cole agreed to publish one form of "Joe Smith's gold bible" each week, and thereby furnish his subscribers with the principal portion of the book for a comparatively small sum. His paper was entitled Dogberry Paper on Winter Hill, and here he had thrown together the most disgusting and insignificant stuff that could be conceived of in juxtaposition with the portion of the Book of  Mormon  which he had pilfered. He was thus classing the beautiful, unaffected simplicity of this inspired writing with the lowest and most contemptible doggerel that ever was imposed upon any community. Hyrum was shocked at this perversion of common sense and moral feeling, as well as indignant at the unfair and dishonest course Mr. Cole had taken to get possession of the work.
"Mr. Cole," said he, "what right have you to print the Book of  Mormon  in this way? Do you not know that we have secured a copyright?"
"It is none of your business, sir," said Mr. Cole. "I have hired the press and I will print what I please, so help yourself."
"Mr. Cole," replied Hyrum, "I forbid you printing any more of that sacred book in your paper. You must stop it."
"Smith," exclaimed Cole, "I don't care a d–n for you. That d–d gold bible is going into my paper, in spite of all you can do."
Hyrum and Oliver both contended with him a long time to dissuade him from his purpose, but finding they could do nothing with him, they returned home, and Mr. Cole issued his paper as he had done several other times. We discovered that he had already issued some six or eight numbers, and had managed to keep them out of our sight.
Hyrum and Oliver returned immediately home, and after connecting with Mr. Smith, it was considered necessary to send for Joseph. Accordingly my husband set out as soon as possible for Pennsylvania and returned with Joseph the ensuing Sunday. The day on which they were expected home was one of the most blustery, cold, and disagreeable that I ever experienced. But they breasted the storm all day long, and when they arrived there, they were nearly stiffened with the cold. However, Joseph made himself comfortable, and, as soon as he could, he went the same night to the printing office.
As it was Sunday, the day in which Mr. Cole published his Dogberry Paper, Joseph saluted him very good-naturedly with, "How do you do, Mr. Cole? You seem hard at work."
"How do you do, Mr. Smith?" said Cole dryly.
Joseph then examined his paper and said, "Mr. Cole, that book and the right of publishing it belongs to me, and I forbid you meddling with it in the least degree."
Mr. Cole threw off his coat and, rolling up his sleeves, came towards my son in a great rage, smacking his fists together with vengeance and roaring out, "Do you want to fight, sir? Do you want to fight? I will publish just what I've a mind to, and now if you want to fight, just come on."
Joseph could not help smiling at his grotesque appearance, for his behavior was too ridiculous to excite indignation. "Well, now, Mr. Cole," said he, "you had better keep on your coat, for it's cold, and I am not going to fight you nor do anything of the sort. Nevertheless, you have got to stop printing my book, sir, I assure you, for I know my rights and shall maintain them."
"Sir," bawled out Cole, "if you think you are the best man, just take off your coat and try it."
"Mr. Cole," said Joseph, in a low, significant tone, "there is law, and you will find that out, if you did not know it before; but I shall not fight you, for that will do no good. There is another way of disposing of the affair that will answer my purpose better than fighting."
At this, the ex-justice began to cool off a little, and finally concluded to submit to an arbitration, which decided that he should stop his proceedings forthwith, so that he made us no further trouble.
Joseph, after disposing of this affair, returned to Pennsylvania, but it was not long till another difficulty arose. The inhabitants of the surrounding country, perceiving that the work still went on, were becoming uneasy again and called a large meeting. They gathered their forces together, far and near, and organizing themselves into a committee of the whole, they passed a resolution that they would not purchase the book or suffer their families to do so, as they had done in a former meeting. Not content with this, they sent a deputation to E. B. Grandin who informed him of the resolution passed by the meeting, and also told him the evil consequences which would result to him therefrom.
The men who were appointed to this errand fulfilled their mission to the letter and urged upon Mr. Grandin the necessity of his putting a stop to the printing, as the Smiths had lost all their property and consequently would be unable to pay him for his work, except by the sale of books. And this they would never be able to do, for the people would not purchase them. This information caused Mr. Grandin to stop printing, and we were again compelled to send for Joseph. These trips back and forth from New York to Pennsylvania cost everything that we could raise, but they seemed unavoidable.
When Joseph came, he went immediately with Martin Harris to Grandin and succeeded in removing his fears, so that he went on with the work until the books were printed, which was in the spring of 1830.
Back To Joseph Smith History Menu