Chapter 19 Alvin Smith's illness and death. He speaks to each of his brothers and sisters and to his parents, encourages them, and bids them farewell. Cause of his death is determined. His funeral. Alvin's great zeal for the work of the Lord.November 15, 1823 to end of November 1823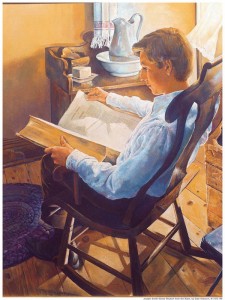 On the fifteenth of November, 1823, about ten o'clock in the morning, Alvin was taken very sick with the bilious colic. He came to the house in great distress and requested his father to go immediately for a physician, which he accordingly did. But the doctor who generally attended upon our family being absent, Mr. Smith was compelled to go further than he expected. However, he found in the next village one Dr. Greenwood, who, when he came, immediately administered a heavy dose of calomel to the patient, although he objected much to it.
This calomel lodged in his stomach, and all the powerful medicine which was afterwards prescribed by skillful physicians could not remove it.
On the third day of his sickness, Dr. McIntyre, the favorite of the family and a man of great skill and experience, was brought and with him four other professors of medicine. But all their exertions were of no avail, just as Alvin had declared would be the case. He said, "The calomel is still lodged in the same place and you cannot move it. Consequently, it must take my life."
He then called Hyrum to him and said, "Hyrum, I must die, and now I want to say a few things to you that you must remember. I have done all that I could do to make our dear parents comfortable. I now want you to go on and finish the house and take care of them in their old age and do not let them work hard anymore."
He then called Sophronia to him and said, "Sophronia, you must be a good girl and do all that lies in your power for Father and Mother. Never forsake them. They have worked hard, and they are now getting old. Be kind to them and remember what they have done for us."
In the latter part of the fourth night he called for all the children and again exhorted them separately to the same effect as before. But to Joseph he said, "Joseph, I am going to die now. The distress which I suffer and the sensations that I have tell me my time is very short. I want you to be a good boy and do everything that lies in your power to obtain the record. Be faithful in receiving instruction and in keeping every commandment that is given you. Your brother Alvin must now leave you, but remember the example which he has set for you, and set a good example for the children that are younger than you. Always be kind to Father and Mother."
He then asked me to take his little sister Lucy up and bring her to him, for he wished to see her. This child was the youngest of the family, and he was extremely fond of her and was in the habit of taking her up and caressing her, which naturally attached her to him. She could not then talk plainly, and always called her brother "Amby." I went to her and said, "Lucy, Amby wants to see you." At this she started out of her sleep and screamed out, "Oh, Amby, Amby." We took her to him, and she sprang from my arms and caught him round the neck and cried out, "Oh, my Amby," and kissed him again and again.
To Lucy he said, "You must be the best girl in the world and take care of Mother. You can't have your Amby anymore. Amby is going away; he must leave little Lucy." He then kissed her and said, "Take her away. I think my breath offends her." We took hold of the child, but she clenched hold of him with such a desperate grasp that it was very difficult to disengage her hands.
As I turned with the child, Alvin said, "Father, Mother, brothers, sisters, farewell! I can now breathe out my life as calmly as a clock," and immediately closed his eyes in death.
The child still cried to go back to Alvin. One present said to her, "Alvin is gone. An angel has taken his spirit to heaven." When the babe heard this, she renewed her cries, and as I bent over his corpse with her in my arms, she again threw her arms around him and kissed him repeatedly, screaming as before. And until the body was taken from the house, she continued constantly crying and showing such manifestation of affection mingled with terror at the scene before her as is seldom witnessed in a child.
This harrowed up our feelings almost to distraction, for Alvin was a youth of singular goodness of disposition-kind and amiable manners, so much so that lamentation and mourning filled the whole neighborhood where we lived, and, of course, more than usual grief filled the hearts of those from whose immediate circle he was taken, those who felt and saw the effects of his nobleness and generosity every hour of his existence.
It was the wish of the principal physician that Alvin's body should be cut open to ascertain, if possible, the cause of his disease and death. When this was done, they found the calomel still lodged in the upper bowels, untouched by anything which he had taken to carry it off. It was as near in its natural state as it could be, surrounded as it was with gangrene.
Dr. McIntyre and Dr. Robinson performed the operation. The last named doctor was seventy years of age. He spoke long and earnestly to the younger physicians upon the danger of administering powerful medicine without the thorough knowledge of the practice of physic. "Here," he said "is one of the loveliest youth that ever trod the streets of Palmyra destroyed, murdered as it were, by him at whose hand relief was expected, cast off from the face of the earth by a careless quack who even dared to trifle with the life of a fellow mortal."
When the time for interment arrived, the inhabitants of the surrounding country gathered together, and during the funeral obsequies they gave the most affectionate manifestations of their sympathy; but there was one that felt our grief more deeply than the rest-a lovely young woman who was engaged to be married to my son. The disconsolate girl was rendered most desolate by his unexpected death, and as long as we knew her, she never recovered her wonted animation and good spirits.
Thus was our happiness blasted in a moment. When we least expected the blow, it came upon us. The poisoned shaft entered our very hearts' core and diffused to deadly effect throughout our veins. We were for a time almost swallowed up in grief, so much so that it seemed impossible for us to interest ourselves at all about the concerns of life. The feeling of every heart was to make speedy preparation to follow him who had been too much the idol of our hearts. And then if it pleased God to take us also, we would receive the call as a favor at his hands from whom it came.
Alvin had ever manifested a greater zeal and anxiety, if it were possible, than any of the rest with regard to the record which had been shown to Joseph, and he always showed the most intense interest concerning the matter. With this before our minds, we could not endure to hear or say one word upon that subject, for the moment that Joseph spoke of the record it would immediately bring Alvin to our minds with all his kindness, his affection, his zeal, and piety. And when we looked to his place and realized that he was gone from it, to return no more in this life, we all wept with one accord over our irretrievable loss, and we could "not be comforted, because he was not."
Back To Joseph Smith History Menu