*See also, An Original History by Joseph Smith.
Joseph Smith, Jr. (1805–1844) was the founding prophet of The Church of Jesus Christ of Latter-day Saints, or "Mormon Church." A prophet, according to the Old and New Testament, relies on revelation from God to teach the people, and not on his own wisdom or learning.
Joseph Smith, as prophet, teacher, and beloved leader of the "Saints" (as members of the Church are called) was the prophet of the "Restoration." That is, he did not establish a new religion, but restored the ancient Church of Christ.  He was able to do this, because he was called of God, given authority from God, and taught truths which he received directly from God. Through his ministry, what began as a handful of believers in 1830 has become a worldwide Church. Joseph Smith accomplished his work without the advantages of schooling, property, or family prominence. The cause of Christ he championed has never taken a step backward.
The Prophet Joseph Smith is one of the most charismatic and influential religious figures in American history. Many followed his teachings and joined the Church which Joseph organized both during his life and after his death, but many others opposed his teachings. The teachings of the restored church seemed heretical, when compared with the teachings of Orthodox priests and Protestant ministers.  This is because, after the death of Christ and His apostles, true doctrine had gradually been lost, but church leaders of other faiths refuse to acknowledge this.
This site is dedicated to the Prophet Joseph Smith and to all serious truth-seekers who want to know more about him. The testimony of the prophet Joseph Smith about the Savior Jesus Christ and about The Church of Jesus Christ of Latter-day Saints needs to be considered seriously and prayerfully by all who want to receive a testimony of the truth revealed directly from God.
We invite you to come and learn more about the Prophet Joseph Smith. We know that if you will do it with an open heart and an open mind, having a true desire to know the truth, you will be able to find answers to your questions.
Other brief articles about Joseph Smith
Many of Joseph Smith's Revelations were Received in the Company of Other People
Note: A discussion regarding the Prophet Joseph Smith and polygamy is beyond the scope of this website. Learn more about Mormon polygamy.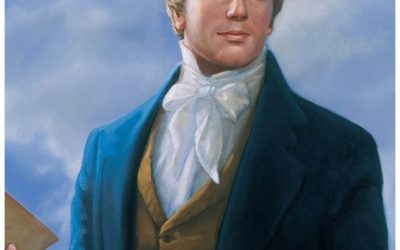 Enoch is one of the most fascinating people in the Old Testament, and there is a mythology which has understandably grown up around him.  There is little about him in the Bible.  Mormons, members of The Church of Jesus Christ of Latter-day Saints (often mistakenly...