Following the death and resurrection of Jesus Christ, apostasy gradually became widespread. The Savior's Apostles were rejected and slain, His teachings were corrupted, and the priesthood of God was taken from the earth. The ancient prophet Amos had foretold a time of apostasy and spiritual darkness: "Behold, the days come, saith the Lord God, that I will send a famine in the land, not a famine of bread, nor a thirst for water, but of hearing the words of the Lord: and they shall wander from sea to sea, and from the north even to the east, they shall run to and fro to seek the word of the Lord, and shall not find it" (Amos 8:11–12).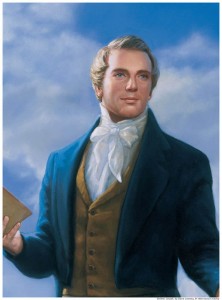 One of those seeking the word of the Lord that had been lost from the earth was Joseph Smith, a young man living in the rural township of Palmyra, New York, in 1820. Joseph was a strong and active young man with fair skin, light brown hair, and blue eyes, the fifth of eleven children in the family of Joseph Smith Sr. and Lucy Mack Smith. He worked long hours helping his father and older brothers fell trees and plant crops on his family's thickly wooded, hundred-acre farm. By his mother's account, he was "a remarkably quiet, well-disposed child,"1 who was "much more given to reflection and deep study" than any of his siblings. 2 Young Joseph worked to help support his family and so was able to obtain only enough formal education to know the basics of reading, writing, and arithmetic.
During this time, a spirit of religious fervor was sweeping through the region of western New York where the Smith family lived. The Smiths, like many others, attended the revivals of the Christian denominations in the area. While some of his family members joined with one of the churches, Joseph did not. He later wrote about this time:
"My mind became seriously impressed with regard to the all important concerns for the welfare of my immortal soul, which led me to searching the scriptures, believing, as I was taught, that they contained the word of God. Thus applying myself to them and my intimate acquaintance with those of different denominations led me to marvel exceedingly, for I discovered that they did not adorn their profession by a holy walk and godly conversation agreeable to what I found contained in that sacred depository. This was a grief to my soul. …
"I pondered many things in my heart concerning the situation of the world of mankind—the contentions and divisions, the wickedness and abominations, and the darkness which pervaded the minds of mankind. My mind became exceedingly distressed, for I became convicted of my sins, and by searching the scriptures I found that mankind did not come unto the Lord, but that they had apostatized from the true and living faith, and there was no society or denomination that built upon the gospel of Jesus Christ as recorded in the New Testament, and I felt to mourn for my own sins and for the sins of the world."3
Young Joseph Smith's search for truth led him into a grove of trees to ask God for the wisdom he needed. In answer to his prayer, Heavenly Father and Jesus Christ appeared to him, opening the way for the restoration of the gospel in the latter days. This marvelous event is recounted in Joseph Smith's simple yet eloquent words.
Joseph Smith's search for truth teaches that scripture study and sincere prayer invite revelation.
Joseph Smith—History 1:5, 7–13: "There was in the place where we lived an unusual excitement on the subject of religion. It commenced with the Methodists, but soon became general among all the sects in that region of country. Indeed, the whole district of country seemed affected by it, and great multitudes united themselves to the different religious parties, which created no small stir and division amongst the people, some crying, 'Lo, here!' and others, 'Lo, there!' Some were contending for the Methodist faith, some for the Presbyterian, and some for the Baptist. …
"I was at this time in my fifteenth year. My father's family was proselyted to the Presbyterian faith, and four of them joined that church, namely, my mother, Lucy; my brothers Hyrum and Samuel Harrison; and my sister Sophronia.
"During this time of great excitement my mind was called up to serious reflection and great uneasiness; but though my feelings were deep and often poignant, still I kept myself aloof from all these parties, though I attended their several meetings as often as occasion would permit. In process of time my mind became somewhat partial to the Methodist sect, and I felt some desire to be united with them; but so great were the confusion and strife among the different denominations, that it was impossible for a person young as I was, and so unacquainted with men and things, to come to any certain conclusion who was right and who was wrong.
"My mind at times was greatly excited, the cry and tumult were so great and incessant. The Presbyterians were most decided against the Baptists and Methodists, and used all the powers of both reason and sophistry to prove their errors, or, at least, to make the people think they were in error. On the other hand, the Baptists and Methodists in their turn were equally zealous in endeavoring to establish their own tenets and disprove all others.
"In the midst of this war of words and tumult of opinions, I often said to myself: What is to be done? Who of all these parties are right; or, are they all wrong together? If any one of them be right, which is it, and how shall I know it?
"While I was laboring under the extreme difficulties caused by the contests of these parties of religionists, I was one day reading the Epistle of James, first chapter and fifth verse, which reads: If any of you lack wisdom, let him ask of God, that giveth to all men liberally, and upbraideth not; and it shall be given him.
"Never did any passage of scripture come with more power to the heart of man than this did at this time to mine. It seemed to enter with great force into every feeling of my heart. I reflected on it again and again, knowing that if any person needed wisdom from God, I did; for how to act I did not know, and unless I could get more wisdom than I then had, I would never know; for the teachers of religion of the different sects understood the same passages of scripture so differently as to destroy all confidence in settling the question by an appeal to the Bible.
"At length I came to the conclusion that I must either remain in darkness and confusion, or else I must do as James directs, that is, ask of God. I at length came to the determination to 'ask of God,' concluding that if he gave wisdom to them that lacked wisdom, and would give liberally, and not upbraid, I might venture."4
Joseph Smith was delivered from the power of the enemy of all righteousness.
Joseph Smith—History 1:14–16: "So, in accordance with this, my determination to ask of God, I retired to the woods to make the attempt. It was on the morning of a beautiful, clear day, early in the spring of eighteen hundred and twenty. It was the first time in my life that I had made such an attempt, for amidst all my anxieties I had never as yet made the attempt to pray vocally.
"After I had retired to the place where I had previously designed to go, having looked around me, and finding myself alone, I kneeled down and began to offer up the desires of my heart to God. I had scarcely done so, when immediately I was seized upon by some power which entirely overcame me, and had such an astonishing influence over me as to bind my tongue so that I could not speak. Thick darkness gathered around me, and it seemed to me for a time as if I were doomed to sudden destruction.
"But, exerting all my powers to call upon God to deliver me out of the power of this enemy which had seized upon me, and at the very moment when I was ready to sink into despair and abandon myself to destruction—not to an imaginary ruin, but to the power of some actual being from the unseen world, who had such marvelous power as I had never before felt in any being—just at this moment of great alarm, I saw a pillar of light exactly over my head, above the brightness of the sun, which descended gradually until it fell upon me."5
Heavenly Father and Jesus Christ appeared to Joseph in answer to his humble prayer.
Joseph Smith—History 1:17–20: "It no sooner appeared than I found myself delivered from the enemy which held me bound. When the light rested upon me I saw two Personages, whose brightness and glory defy all description, standing above me in the air. One of them spake unto me, calling me by name and said, pointing to the other—This is My Beloved Son. Hear Him!
"My object in going to inquire of the Lord was to know which of all the sects was right, that I might know which to join. No sooner, therefore, did I get possession of myself, so as to be able to speak, than I asked the Personages who stood above me in the light, which of all the sects was right (for at this time it had never entered into my heart that all were wrong)—and which I should join.
"I was answered that I must join none of them, for they were all wrong; and the Personage who addressed me said that all their creeds were an abomination in his sight; that those professors were all corrupt; that: 'they draw near to me with their lips, but their hearts are far from me, they teach for doctrines the commandments of men, having a form of godliness, but they deny the power thereof.'
"He again forbade me to join with any of them; and many other things did he say unto me, which I cannot write at this time. When I came to myself again, I found myself lying on my back, looking up into heaven. When the light had departed, I had no strength; but soon recovering in some degree, I went home. And as I leaned up to the fireplace, mother inquired what the matter was. I replied, 'Never mind, all is well—I am well enough off.' I then said to my mother, 'I have learned for myself that Presbyterianism is not true.' It seems as though the adversary was aware, at a very early period of my life, that I was destined to prove a disturber and an annoyer of his kingdom; else why should the powers of darkness combine against me? Why the opposition and persecution that arose against me, almost in my infancy?"6
When our testimonies are strong, persecution cannot cause us to deny what we know to be true.
Joseph Smith—History 1:21–26: "Some few days after I had this vision, I happened to be in company with one of the Methodist preachers, who was very active in the before mentioned religious excitement; and, conversing with him on the subject of religion, I took occasion to give him an account of the vision which I had had. I was greatly surprised at his behavior; he treated my communication not only lightly, but with great contempt, saying it was all of the devil, that there were no such things as visions or revelations in these days; that all such things had ceased with the apostles, and that there would never be any more of them.
"I soon found, however, that my telling the story had excited a great deal of prejudice against me among professors of religion, and was the cause of great persecution, which continued to increase; and though I was an obscure boy, only between fourteen and fifteen years of age, and my circumstances in life such as to make a boy of no consequence in the world, yet men of high standing would take notice sufficient to excite the public mind against me, and create a bitter persecution; and this was common among all the sects—all united to persecute me.
"It caused me serious reflection then, and often has since, how very strange it was that an obscure boy, of a little over fourteen years of age, and one, too, who was doomed to the necessity of obtaining a scanty maintenance by his daily labor, should be thought a character of sufficient importance to attract the attention of the great ones of the most popular sects of the day, and in a manner to create in them a spirit of the most bitter persecution and reviling. But strange or not, so it was, and it was often the cause of great sorrow to myself.
"However, it was nevertheless a fact that I had beheld a vision. I have thought since, that I felt much like Paul, when he made his defense before King Agrippa, and related the account of the vision he had when he saw a light, and heard a voice; but still there were but few who believed him; some said he was dishonest, others said he was mad; and he was ridiculed and reviled. But all this did not destroy the reality of his vision. He had seen a vision, he knew he had, and all the persecution under heaven could not make it otherwise; and though they should persecute him unto death, yet he knew, and would know to his latest breath, that he had both seen a light and heard a voice speaking unto him, and all the world could not make him think or believe otherwise.
"So it was with me. I had actually seen a light, and in the midst of that light I saw two Personages, and they did in reality speak to me; and though I was hated and persecuted for saying that I had seen a vision, yet it was true; and while they were persecuting me, reviling me, and speaking all manner of evil against me falsely for so saying, I was led to say in my heart: Why persecute me for telling the truth? I have actually seen a vision; and who am I that I can withstand God, or why does the world think to make me deny what I have actually seen? For I had seen a vision; I knew it, and I knew that God knew it, and I could not deny it, neither dared I do it; at least I knew that by so doing I would offend God, and come under condemnation.
"I had now got my mind satisfied so far as the sectarian world was concerned—that it was not my duty to join with any of them, but to continue as I was until further directed. I had found the testimony of James to be true—that a man who lacked wisdom might ask of God, and obtain, and not be upbraided."7
Notes:
1. Lucy Mack Smith, "The History of Lucy Smith, Mother of the Prophet," 1845 manuscript, p. 72, Church Archives, The Church of Jesus Christ of Latter-day Saints, Salt Lake City, Utah. Lucy Mack Smith, the Prophet's mother, dictated her history, which includes much about the Prophet's life, to Martha Jane Knowlton Coray beginning in 1844 and continuing into 1845. Martha Coray referred to this early manuscript as "History rough manuscript." Later in 1845, Lucy Mack Smith, Martha Coray, and Martha's husband, Howard Coray, revised and expanded the earlier manuscript. The 1845 manuscript is titled "The History of Lucy Smith, Mother of the Prophet."This book quotes from the 1844–45 manuscript except in a few instances when the 1845 manuscript includes material that is not found in the 1844–45 manuscript.
2. Lucy Mack Smith, "The History of Lucy Smith, Mother of the Prophet," 1844–45 manuscript, book 4, p. 1, Church Archives.
3. Joseph Smith, History 1832, pp. 1–2; Letter Book 1, 1829–35, Joseph Smith, Collection, Church Archives.
4. Joseph Smith—History 1:5, 7–13. On several occasions the Prophet Joseph Smith wrote or dictated detailed accounts of the First Vision. Quotations in this chapter are from the First Vision account first published in 1842 in "History of Joseph Smith," Times and Seasons, Mar. 15, 1842, pp. 726–28; Apr. 1, 1842, pp. 748–49; and later included in the Pearl of Great Price and published in the History of the Church, vol. 1, pp. 1–8. This is the official scriptural account. The Prophet Joseph Smith prepared this account in 1838 and 1839 with the help of his scribes.
5. Joseph Smith—History 1:14–16.
6. Joseph Smith—History 1:17–20.
7. Joseph Smith—History 1:21–26.
Go to chapter 2 of Teachings: "God the Eternal Father."
Teachings of the Prophet Joseph Smith: The First Vision