Despite success in convincing many in the area that Ezra Booth and other apostates' claims were untrue, there were still those who believed them. In March Joseph Smith and his wife Emma were living in Hiram, Ohio. On the 24th, a mob of between 25 and 30 men (who had been drinking whiskey) attacked Joseph Smith and Sidney Rigdon.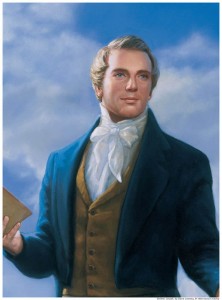 The twins that Joseph and Emma had adopted contracted measles and Emma and Joseph had been staying up in the night to take care of them. On this night Joseph had finally persuaded Emma to get some rest. She took one of the twins, (the girl) with her and left Joseph with their son who was more ill. Joseph had just barely fallen asleep on a trundle bed near his son when he was woken up by Emma's screams. He was immediately dragged out of his house by about a dozen men. Joseph struggled, but the men threatened to kill him if he continued to struggle. They then choked Joseph until he passed out. When he woke, he saw Sidney Rigdon on the ground where the mob had dragged him. Sidney was not moving, and Joseph did not know if he was alive or dead. The mob began to discuss what they should do with Joseph. The mob tore off Joseph's clothes and began covering him with tar. They tried to force the tar in his mouth, but Joseph would not let them. They then tried to make him swallow acid. In doing this they chipped one of Joseph's teeth. They left Joseph covered in tar on the ground.
Joseph eventually gathered enough strength to drag himself back to the house. When he opened the door Emma mistook the tar for blood and fainted. A blanket was given to Joseph to cover himself. The rest of the night, Joseph's friends removed the tar. By morning Joseph was clean enough to dress again. It was a Sunday morning, and Joseph went to preach at the usual time. Among those in the congregation were many who had been a part of the mob the night before. Joseph Smith successfully taught his sermon and that evening baptized three people.
Sidney Rigdon had been hurt much worse. The mob had dragged him out by his feet and kept his legs up so high that he could not keep his head from hitting the ground. Joseph Smith visited him the next day and found his head cut in several places and severely swollen. Sidney was also delirious and remained delirious for several days.
During the night that the mob attacked Joseph, one of the twins was exposed to the cold night air.  The exposure, and the measles caused him to pass away the following Friday. Because of the treatment from the mob and persecutions that continued, Sidney Rigdon moved his family to Kirtland the following Wednesday, even though they had all contracted measles. Persecution continued and Rigdon moved his family again to Chardon on March 31st.
See the next article in the timeline series.
Other Links: