Appendix 1 Brief Chronology of the Joseph and Lucy Mack Smith Family
(Emphasis on Joseph Smith Jr.'s Life)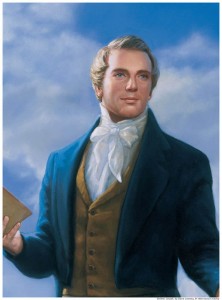 1771-1856
New England
1771 July 12 Joseph Smith Sr. born in Topsfield, Mass.
1775 July 8 Lucy Mack born in Gilsum, N.H.
1796 Jan 24 Joseph Smith and Lucy Mack married at Tunbridge, Vt.
1797  Loss of firstborn son of the Smiths.
1798 Feb 11 Birth of Alvin.
1800 Feb 9 Birth of Hyrum.
1802 Spring Move to Randolph, Vt.
1803 Winter Move back to the Tunbridge farm (early in the year).
1803 May 17 Birth of Sophronia.
1803 Spring Loss of the Tunbridge farm.
1803 Summer Move to Royalton, Vt.
1803 Fall Move to Sharon, Vt. Rent farm from Solomon Mack.
1804 July 10 Birth of Emma Hale at Harmony, Pa.
1805 Dec 23 Birth of Joseph Jr.
1806/7  Move to Tunbridge.
1808 Mar 13 Birth of  Samuel  Harrison.
1808/9  Move to Royalton, Vt.
1810 Mar 13 Birth of Ephraim.
1810 Mar 24 Death of Ephraim.
1811 Mar 13 Birth of William.
1811 Apr First in series of seven visions received by Joseph Smith Sr. (1811-19).
1811 Summer Move to Lebanon, N.H.
1812 July 28 Birth of Catharine.
1812/13  Typhoid fever epidemic. All Smith children contract the disease.
1813  Joseph Jr.'s leg operation.
1814  Move from Lebanon, N.H., to Norwich, Vt.
1814 Fall Complete crop failures for the Smiths in Norwich.
1815  Complete crop failures for the Smiths in Norwich.
1815  Newspaper reports of good land available in western N.Y.
1816 Mar 25 Birth of Don Carlos.
1816 June Crops are killed by series of untimely ice storms. "Year without a summer."
1816 Fall Move from New England to Palmyra, N.Y. (could be Jan. 1817).
New York/Pennsylvania
1817  Smiths purchase 100 acres of virgin forest land two miles south of Palmyra.
1818 Fall Smiths move into small cabin at north end of their Manchester property.
1819 Dec 23 Joseph Jr. turns fourteen years old.
1819/20  Attempted assassination of Joseph Jr.
1820 Spring Joseph Jr.'s first vision
1821 July 18 Birth of Lucy.
1822  Alvin begins construction on frame house at Manchester farm.
1823 Sept 21 Moroni's first visit to Joseph Jr.
1823 Sept 22 Joseph Jr. views the plates for the first time.
1823 Nov 19 Death of Alvin.
1824 Sept 22  Moroni  meets with and teaches Joseph Jr. at Hill Cumorah.
1825 Sept 22  Moroni  meets with and teaches Joseph Jr. at Hill Cumorah.
1825 Oct Joseph Jr. hires with Josiah Stowell and works in Harmony, Pa.
1825 Dec Smith family loses farm by fraud and become tenants on their own land.
1826  Joseph Jr. works most of the year for Josiah Stowell and Joseph Knight Sr.
1826 Sept 22  Moroni  meets with and teaches Joseph Jr. at Hill Cumorah.
1827 Jan 18 Marriage of Joseph Jr. to Emma Hale at S. Bainbridge, N.Y.
1827 Jan Joseph and Emma move in with the Smiths at the Manchester farm.
1827 Sept 22 Joseph Jr. obtains the plates from the angel Moroni.
1827 Dec Joseph and Emma move to Harmony. Martin Harris gives them $50.
1828 Feb 27 Martin Harris takes facsimile transcript to New York City.
1828 Apr 12 Martin Harris begins work as scribe for Joseph in translation of plates.
1828 June 14 Martin Harris takes 116 manuscript pages from Harmony to Palmyra.
1828 June 15 Birth and death of Joseph and Emma's first son, Alvin.
1828 June/July Loss of 116 manuscript pages. Joseph loses privileges of translation.
1828 Sept 22 Joseph receives plates again from angel Moroni. A scribe is promised.
1829 Apr 5 Oliver Cowdery arrives in Harmony, Pa.
1829 Apr 7 Oliver Cowdery begins services as scribe to Joseph in translation process.
1829 May 15  John  the Baptist confers Aaronic Priesthood upon Joseph and Oliver.
1829 Late May Restoration of Melchizedek Priesthood by Peter, James, and John.
1829 June Joseph and Oliver move to Fayette, N.Y., to  Peter  Whitmer Sr. home.
1829 June 11 Copyright of Book of  Mormon  obtained.
1829 June Three Witnesses see angel, plates, and hear the voice of God.
1829 June Eight Witnesses view and handle the ancient plates.
1829 Aug 25 Martin Harris signs agreement of mortgage to printer E. B. Grandin.
1829 Sept Printing process begins for Book of Mormon.
1830 Jan 2 Abner Cole begins illegally publishing parts of the Book of Mormon.
1830 Jan Cole's illegal activities are put to a stop.
1830 Jan Palmyra citizens agree not to purchase copies of Book of Mormon.
1830 Mar 26 Book of  Mormon  goes on sale at Palmyra Bookstore.
1830 Apr 6 Legal organization of the Church at the home of  Peter  Whitmer Sr.
1830 June  Revelations  of  Moses  given-translation of the Bible begun.
1830 June 30  Samuel  Harrison Smith leaves as first official missionary of the Church.
1830 Summer Joseph Sr. and Don Carlos go on mission to extended Smith family.
1830 Fall Joseph Sr. goes to debtor's prison for a month.
1830 Fall Oliver Cowdery, Parley Pratt, and companions leave for Lamanite mission.
1830 Fall Great  numbers  join the Church in northern Ohio, including Sidney Rigdon.
1830 Fall Smith family moves from Manchester cabin to Waterloo, N.Y.
1830 Dec 10 Sidney Rigdon and Edward Partridge arrive in Waterloo.
1830 Dec Commandment given  (D&C 37)  to gather to Ohio.
Ohio/Missouri
1831 Feb 1 Joseph and Emma arrive at Kirtland, Ohio. Stay with Whitneys.
1831 Feb 9 Law of the Church given  (D&C 42).
1831 Mar Joseph and Emma move to Isaac Morley farm.
1831 Apr Lucy Mack Smith and group of eighty Saints depart N.Y. for Ohio.
1831 Apr 30 Joseph and Emma's twins, Thaddeus and Louisa, are born and die.
1831 Apr 30 Julia Murdock passes away in childbirth with twins.
1831 May 9 Joseph and Emma adopt Murdock twins (Joseph Murdock and Julia)
1831 May Lucy Mack Smith and group arrive in Kirtland.
1831 June Joseph Jr. and company start for Jackson County, Mo.
1831 Aug 2 Foundation of Zion laid in Kaw Township, Jackson County, Mo.
1831 Aug 3 Place for the temple dedicated by Joseph Jr.
1831 Sept 12 Joseph and Emma move to  John  Johnson farm in Hiram, Ohio.
1832 Feb 16 Vision of the three degrees of glory given.
1832 Mar 24/25 Joseph and Sidney are mobbed, beaten, tarred, and feathered.
1832 Mar 30 Joseph Murdock Smith, eleven months old, dies from exposure.
1832 Apr 1 Joseph Jr. leaves for Mo.
1832 June Joseph Jr. arrives back from trip to Mo.
1832 Sept 12 Joseph and Emma and Julia move to Newel K. Whitney store in Kirtland.
1832 Oct Joseph and Newel Whitney travel to Albany, New York City, and Boston.
1832 Nov 6 Joseph Smith III born at Kirtland.
1832 Dec 25  Revelation  on war given  (D&C 87).
1832 Dec 27 Beginning of the "Olive Leaf" given  (D&C 88).  Balance given Jan 1833.
1833 Jan 23 School of the Prophets begins in Kirtland.
1833 Feb 27  Revelation  known as the Word of Wisdom given at Kirtland  (D&C 89).
1833 Mar 18 First Presidency organized.
1833 July 2 Translation of the Bible "completed."
1833 July 23 Cornerstone for Kirtland Temple laid.
1833 Oct 5 Joseph Jr. leaves on proselyting mission to Canada.
1833 Nov 4 Joseph Jr. returns to Kirtland.
1833 Nov 25 News received in Kirtland of expulsion of the Saints from Jackson County.
1834 Feb 17 High council is organized at Kirtland  (D&C 102).
1834 May 5 Joseph Jr. leaves as leader of Zion's Camp.
1834 June 19 Arrival of Zion's Camp in Clay County, Mo.
1834 Aug 1 Joseph Jr. returns to Kirtland.
1835 Feb 14 Organization of the Quorum of the Twelve Apostles.
1835 Feb 28 Organization of the Quorum of the Seventy.
1835 Mar 28  Revelation  on priesthood given  (D&C 107).
1835 July Egyptian mummies purchased from Michael Chandler.
1836 Mar 27 Kirtland Temple dedication  (D&C 109).
1836 Apr 3 The Savior, Moses, Elias, and Elijah come to the temple  (D&C 110).
1836 May 17 Mary Duty Smith, grandmother of the Prophet, arrives in Kirtland.
1836 May 27 Grandmother Mary Duty Smith dies; Sidney Rigdon gives funeral address.
1836 June 20 Joseph and Emma's Frederick G. W. born at Kirtland.
1837 Fall Apostasy in Kirtland grows rapidly.
1838 Jan 12 Joseph Jr. and Sidney Rigdon ride at midnight to escape danger in Kirtland.
1838 Mar 14 Joseph and Emma arrive in Far West, Mo.
1838 June 2 Joseph and Emma's Alexander Hale born at Far West, Mo.
1838 Aug 6 Election held at Gallatin, Mo.-riot ensues.
1838 Oct 25 David Patten, President of the Twelve, shot and killed at Crooked River.
1838 Oct 27 Extermination order issued by Governor Lilburn W. Boggs.
1838 Oct 30 Haun's Mill massacre.
1838 Oct 31 Joseph, Hyrum, and others surrender to Missouri militia at Far West.
1838 Nov 1 Joseph, Hyrum, and others sentenced to be shot. Doniphan intervenes.
1838 Nov 13 Birth of Joseph Fielding Smith, son of Hyrum and Mary Fielding Smith.
1838 Dec 1 Joseph, Hyrum, and others imprisoned at Liberty Jail.
1839 Feb 7 Emma and the children leave Far West for Ill.
1839 Feb Joseph Sr., Lucy Mack Smith, and extended family begin trek for Ill.
1839 Mar  Revelations  received in Liberty Jail  (D&C 121,   122, and 123).
1839 Apr 6 Joseph and other prisoners taken from Liberty Jail to go to Daviess County.
1839 Apr 15 On way to Boone County on change of venue, Joseph and others allowed to escape.
1839 Apr 22 Joseph and Hyrum are reunited with their families at Quincy, Ill.
Nauvoo
1839 May 1 Joseph purchases the first lands for the Church in Ill.
1839 May 10 Move to Commerce, Ill., later called Nauvoo (Hancock County).
1839 July 22 Joseph arises from bed of sickness and gives blessings to the sick.
1839 Oct 29 Joseph leaves for Washington, D.C., to present grievances to the president.
1839 Nov Times and Seasons is published at Nauvoo, Ill.
1839 Nov 28 Joseph arrives in Washington, D.C.
1839 Nov 29 Joseph visits President Martin Van Buren: "Your cause is just . . ."
1839 Dec Joseph visits Saints in Philadelphia and N.J.
1840 Mar 4 Joseph arrives in Nauvoo from Washington, D.C., trip.
1840 June 13 Joseph and Emma's Don Carlos born at Nauvoo.
1840 Sept 14 Death of Joseph Sr.
1840 Dec 16 Charter for city of Nauvoo, Nauvoo Legion, and university granted.
1841 Feb 4 Joseph commissioned as lieutenant-general of Nauvoo Legion.
1841 Apr 6 Cornerstone laid for the Nauvoo Temple.
1841 June 4 Arrested on old Missouri charges.
1841 June 9 Two-day trial begins at Monmouth, Ill., before Judge Stephen Douglas.
1841 Aug 7 Death of Don Carlos.
1841 Aug 15 Death of Joseph and Emma's Don Carlos.
1841 Nov 8 Dedication of baptismal font in Nauvoo Temple.
1842 Jan 15 Joseph spends time correcting proof for new edition of the Book of Mormon.
1842 Feb 6 Stillborn son of Joseph and Emma.
1842 Mar 15 Joseph becomes editor of Times and Seasons.
1842 Mar 17 Female Relief Society of Nauvoo organized with Emma as president.
1842 May 4 Temple endowment is introduced in this dispensation.
1842 May 19 Joseph elected mayor of Nauvoo.
1842 Aug 8 Joseph arrested for alleged complicity in Boggs assassination attempt.
1842 Aug Joseph goes into hiding.
1842 Fall Emma and children ill. Emma nearly dies.
1842 Dec 26 Second arrest in Boggs case.
1843 Jan 5 Acquitted in Boggs case.
1843 Jan 18 Joseph and Emma celebrate sixteenth wedding anniversary with guests.
1843 May 28 Sealed to Emma for time and eternity.
1843 June 13 Joseph leaves Nauvoo to visit relatives at Dixon, Ill.
1843 June 23 Arrested by Missouri and Illinois officers disguised as missionaries.
1843 June 30 Arrives back in Nauvoo.
1843 July 1 Discharged by Nauvoo court.
1843 Aug 31 Joseph and Emma move into new residence, Nauvoo Mansion.
1843 Sept 28 Joseph introduces fulness of priesthood ordinances.
1844 Jan 29 Elected candidate for United States presidency.
1844 Feb 20 Instructions given to Twelve to investigate place of refuge for the Saints.
1844 Apr 7 Joseph delivers King Follett discourse.
1844 May 17 Nominated for U.S. presidential candidate at Nauvoo convention.
1844 June 7 Nauvoo Expositor published.
1844 June 10 Joseph, as mayor, orders destruction of Expositor press.
1844 June 18 Nauvoo placed under martial law.
1844 June 22 Joseph, Hyrum, Willard Richards, O. P. Rockwell cross Mississippi River.
1844 June 25 Joseph and Hyrum surrender at Carthage to face Expositor riot charge.
1844 June 27 Death of Hyrum and Joseph Jr. at Carthage Jail.
1844 July 30 Death of  Samuel  Harrison.
1844 Nov 17 Birth of David Hyrum Smith, son of Joseph and Emma.
1846 Feb 4 Saints begin  exodus  from Nauvoo to the West.
1847 Dec 23 Emma marries "Major" Lewis C. Bidamon at Nauvoo.
1856 May 14 Lucy Mack Smith dies, having spent her last three years with Emma.